Pura Besakih "a Mother Temple in Bali"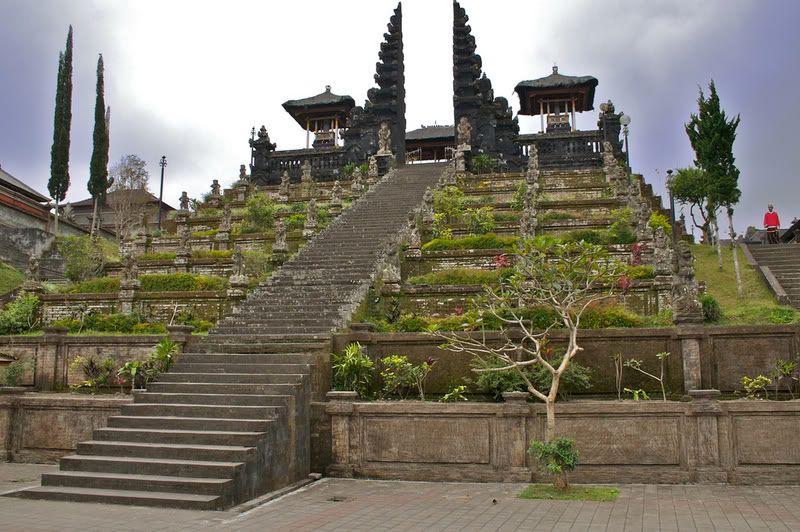 High on the slopes of Bali's Mount Agung sits Pura Besakih, widely referred to as the "Mother Temple" of Hinduism in Bali. Pura Besakih, or Besakih Temple in English, is the largest of the island's 11,000 or so Hindu temples; its 35 shrines and halls draw devotees from all over Bali in massive numbers each year.
The world is lucky to have Besakih. In 1963 Mount Agung, a volcano, erupted and destroyed several nearby villages. Besakih was untouched.
The temple is generally agreed to date back to prehistoric times in Bali. It is named for Naga Besukian — the dragon-god thought by pre-Hindu Balinese to inhabit this, the highest mountain in Bali. But at the beginning of the 11th Century Besakih became the state temple at a time when Bali was no mean kingdom. It has remained the state temple in some form or another ever since and is state supported today.
Like most Balinese temples, Besakih is not a closed building but a mostly open-air affair. It is made up of courtyards with altars and shrines devoted to a number of gods. And those gods have better things to do than just hang around a temple; the Balinese believe that the gods visit a temple on particular dates — and on those dates the Balinese hold festivals to honor (or placate) the gods. Of all the temples on Bali six are "supremely holy:" Pura Besakih, Pura Lempuyang Luhur, Pura Gua Lawah, Pura Batukaru, Pura Pusering Jagat, and Pura Uluwatu. Of these, Besakih stands higher than the others — not because it sits some 3000 or so feet above the ocean on the mountain's side, but because it is more sacred to the Balinese. It is said to be the only classless, casteless temple on the island where any Balinese Hindu can come to worship.
Bali's Hinduism is unique. Many scholars believe it gives us a view of Hindu beliefs much as they existed 1500 to 2000 years ago. Hinduism was once the dominant religion in much of Southeast Asia and empires in the region where ruled by god-kings — empires like Funan, Sri Vijaya, Angkor, and Bali.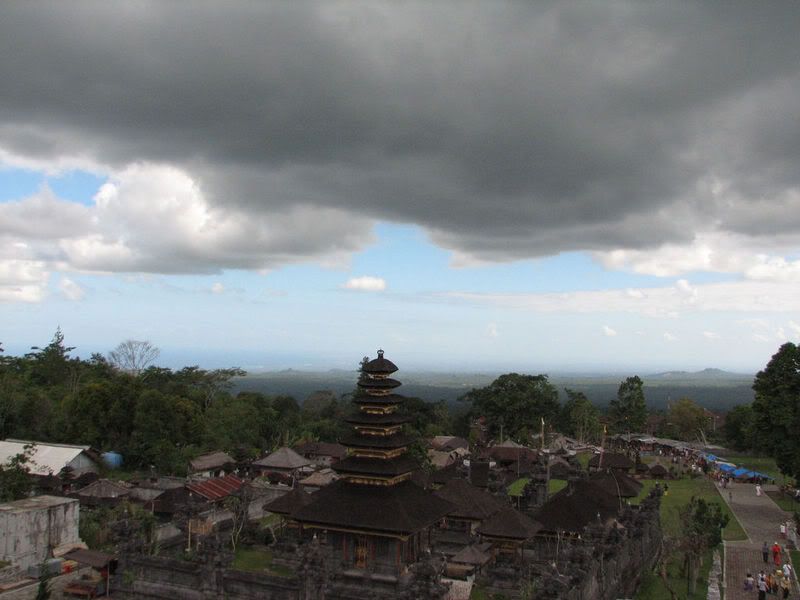 The Hinduism of Bali is less fragmented than that of modern India. Balinese are generally said to worship one god, Brahman, who manifests himself in various forms or personalities.
Lee Arnold, in his article on The Temples of Bali, quotes an anonymous Balinese who explains their views: "I am just one person; someday I might be a farmer, another a driver, yet another a cook, but I am still only one person." In the same way the Hindu "gods" Siva and Vishnu (Siwa and Visnu in Balinese) are really just different manifestations of the one god, Brahman, in Balinese theology. While this may be true, temples generally end up serving as places where one of Brahman's manifestations is worshipped; and Besakih is dedicated largely to Siva worship.
While the Hinduism of Bali may provide a glimpse into the religion's past it is by no means pure. Balinese religion has kept Islam at bay, but has absorbed aboriginal animism and Malay cultic ancestor worship along with aspects of Mahayana Buddhism.
The temple's anniversary, Odalan, is an excellent day to visit if you are looking for pageantry. But you should expect a crowd of several thousand people. That ceremony comes in the tenth month of the Balinese calendar, usually in April.
By Greg Cruey.